about that "bromance with Putin"...
Speaking during the Eastern Economic Forum in Vladivostok on Thursday, Russian President Vladimir Putin couldn't help but take a jibe at US Secretary of State Rex Tillerson. When speaking about foreign investments in Russia's Far East regions, and the cases of Japanese and Chinese businessmen receiving Orders of Friendship for their efforts, the highest honor a non-Russian can receive from the Russian state, Putin recalled handing one such order to then-Exxon Mobil CEO Rex Tillerson, now US Secretary of State. Putin said that Tillerson has since "fallen in with bad company."
Putin rues giving Rex Tillerson Russia's 'Order of Friendship' — 'he seems to have fallen in with the wrong company'http://www.businessinsider.com/r-putin-rues-awarding-us-top-diplomat-tillerson-russian-state-honor-2017-9
VLADIVOSTOK, Russia (Reuters) - Vladimir Putin took a jab at Rex Tillerson on Thursday, joking that the U.S. Secretary of State had "fallen in with the wrong company" since he had awarded him a Russian state honor for his contribution to Russian-U.S. relations.

Hopes of detente in Moscow's relations with Washington under Donald Trump, who had praised President Putin before winning the White House, have faded as the countries have imposed sanctions and expelled diplomats in recent months.

Addressing a U.S. citizen at a plenary session of an economic forum in the far eastern city of Vladivostok, Putin said: "We awarded your compatriot Mr. Tillerson the Order of Friendship, but he seems to have fallen in with the wrong company and to be steering in the other direction."
"I hope that the wind of cooperation, friendship and reciprocity will eventually put him on the right path," Putin added, drawing cheers from the crowd.

In 2013 Putin awarded Tillerson, then CEO of energy giant Exxon Mobil, the Order of Friendship, a Russian state honor, for his "significant contribution to strengthening cooperation in the energy sector".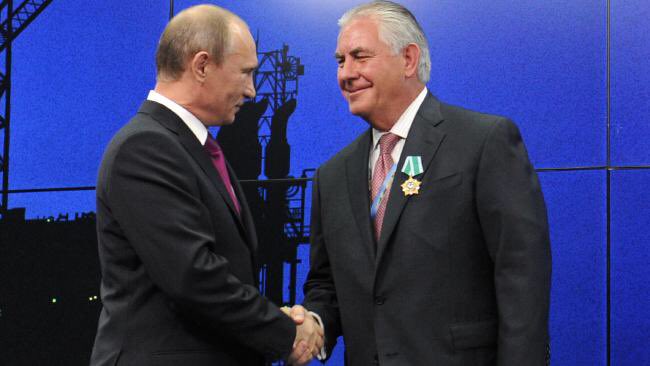 Russia's relations with the United States deteriorated over its annexation of the Black Sea peninsula of Crimea in 2014 and support for pro-Russian separatists in eastern Ukraine, prompting Washington to impose economic sanctions against Moscow.

The Kremlin, which has denied U.S. allegations it meddled in the presidential vote, had heaped praise on Trump during his election campaign, saying it supported efforts to improve Russian-American relations.

But Trump, who was faced scrutiny over the alleged ties of his entourage with Russia, reluctantly signed into law fresh sanctions against Moscow, further straining relations.