Hey guys, I thought I would post some upcoming fights I want to see. If you want we could all post fights we want to see, give a bit of hype for the fights and I could add it to the OP. We could do commentary on events as they happen and post videos after.
Upcoming fights:
March 1 - Boxing - Shinsuke Yamanaka vs Luis Nery 2 - Shinsuke was the long time reigning champion and KO artist before he was dethroned by Nery last year. However, Nery then tested positive for roids and Shinsuke was re-instated. However, the commission investigated the positive test and concluded it was tainted supplements or something like that so they ordered a rematch.
March 2-3 - Arnold Strongman Classic
March 3 - UFC 222 - Holloway vs Edgar. Should be a great fight. Im cheering for Edgar. Struve vs Arlovski is also on this card.
March 10 - Mikey Garcia vs Sergey Lipinets. Mikey Garcia is considered the best at 140 lbs, Sergey Lipenets is my favorite fighter at 140 lbs and holds a major belt. Mikey will be the heavy favorite but Lipinets is bigger, hits harder and has been improving so rapidly. The fact that he accepted this fight shows he has the eye of the tiger. It will be very cool.
March 10 – Yokkao 30 – two title fights: McAllister vs Singdam, Harrison vs Chamuaktong at 65kg
Singdam, "The Black Lion", is a legend of Muay Thai and a career rival of the famed Saenchai. He will be fighting one of Englands top fighters for the yokkao title. Chamuaktong, whose name literally means "The Golden Harpoon" is one of the best fighters of the Thai stadiums, and I would say he is the best in the world at 140 lbs. He is fighting the best English fighter around his size in Harrison at 143 lbs.
March 10 - Oscar Valdez vs Scott Quigg - WBO featherweight title fight
March 17 - UFC - Werdum vs Volkov
March 17 - Kickboxer turned boxer Aleksei Papin(9-0) is fight a guy named Vladimir Kalesh(4-0).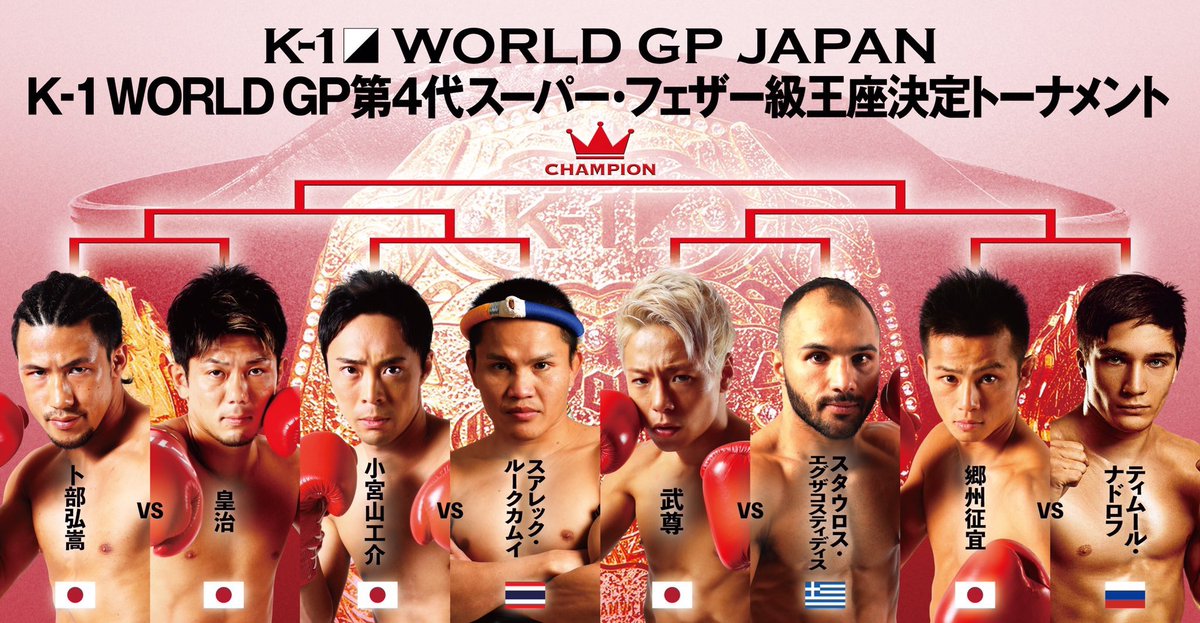 March 21 – K-1: Kaew vs Ren Hiramoto, Melsik Edmundsgym vs Yuta Kubo, Koya Urabe vs Wei Rui, Takeru vs Taiga
Stacked K-1 card. Kaew Fairtex, my favorite fighter, is fighting rising Japanese prospect Ren Hiramoto. Melsik, who I know as an Armenian guy who is actually pretty good despite being trained by Edmund, is challenging for the K-1 67.5kg(148 lbs) title against champion Yuta Kubo. Wei Rui is the other Chinese fighter who has been able to consistently beat top competition, and he is the K-1 champion at 62.5kg(138 lbs). He is fighting the best Japanese fighter at his weight, Koya Urabe. A one night tournament to crown the 60kg(130 lbs) champion is the main attraction. One of the 8 participants is Takeru, who is the 55kg champion and a superstar.
March 24 - Lucas Browne vs Dillion Whyte - ex-MMA fighter vs ex-kickboxer fighting in boxing(HW). They have both won regional titles and they have both tested positive for roids. I think I also heard that the winner will get a world title shot. Should be fun.
April 7 - Cody Rhodes vs Kenny Omega
April 13 - Bellator champ Brett Primus fighter ex-bellator champ Michael Chandler.
April 20 - ONE does kickboxing! Petrosyan vs Nattawut in KB rules, Nong-O vs Pinca in MT rules with MMA gloves.
April 28 - Mir vs Fedor. The fight we always wanted to see, but in grandpa form! Who will be the dadbod champ and move on to face HW Chael Sonnen?!
May 5 - GGG vs Canelo 2 - Two p4p great boxers clash for the second time. Their first fight was a controversial draw that many thought GGG won.
July 7 - Stipe vs Cormier. Should be awesome!